Tempo di lettura:
3
minuti
Student Leadership Formacion is a 10 day conference organised by IFES Europe where participants face questions such as "What kind of person does God call to be a leader?", "How can I feel or know that I'm being called?" and even "How can a leader grow without burning out".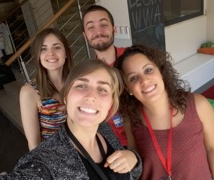 From the 4th to the 13th of August 2016, I had the honour of going to Poland, with 3 other GBU members, where we learnt, through the story of Moses, how to be good leaders in the church and in the ministry of IFES. I can say with certainty that it was one of the most incredible experiences of my life so far!
There were 140 students from 40 different countries who all had the same role as a leader-coordinator in university bible study groups in their universities. It was very encouraging to meet other students (all between 19 and 23 years old) from countries around the world who serve God and are as passionate as I am! It was great to be able to share with them faith experiences and the work they are doing within the university with IFES. I felt part of something very big and important and I returned home with a great sense of responsibility for my role and very enthusiastic and eager to start the new academic year.
The programme was packed and intense but never heavy or tiring. It was very well thought out, dynamic, original and interesting! We were only there for 10 days but we really learnt a lot and we grew a lot in our faith, as men and women of God, as loving brothers and sisters, as young leaders mindfully aware of our responsibility and to work effectively in a team in order to make God known in the best way!
As well as growing with God, it was also an opportunity to grow with my christian family here in the world. I made many new friends who I bonded well with and created deep friendships in the name of God that I'm still carrying on today. I now have bothers and sisters in Serbia, Greece, Spain, Russia, France, England and Jerusalem!
Formacion also does much more. It makes you learn more about your personality and teaches you how to use that efficiently, it gives you the opportunity and time to reflect on your whole life to see where God has worked and which events have shaped you into the person you are today. It challenges you and encourages you to spend and entire day alone with God, a 20 km walk in the Polish hills with only a map at your disposal (the reason why my group, for a few kilometres, risked crossing the border and almost found ourselves in Slovakia). You eat lots and lots of soup, vegetables for breakfast and pancakes for dinner. It gives you the opportunity to learn the characteristics of other cultures in the international evening and it challenges you to overcome your difficulties and fears.
I am truly grateful to God for giving me the chance to take part in this unique experience which has changed my life.
Debora Oxenham
(GBU Roma Tre)

Italiano
https://gbu.it/wordpress/wp-content/uploads/2016/10/isjyeqkb.bmp
180
320
Luisa Pasquale
https://gbu.it/wordpress/wp-content/uploads/2015/09/GBU_bandiera_RGB_logo_colore-300x172.png
Luisa Pasquale
2016-10-07 13:16:41
2016-10-14 12:15:40
A GBU girl at Formacion