Tempo di lettura:
3
minuti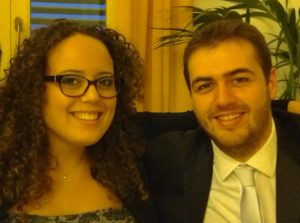 We have the great pleasure of introducing Domenico, a student who has decided to undertake our staff training program. The pleasure is even greater because he represents an opportunity we have prayed about for many years: a member of staff in Sicily!
We have had, and still have, GBU groups in Sicily, but we have never had a member of staff who could offer continuity, visit and present the GBU to churches and start new groups in  universities where there are none.
As of January 1st, 2017 this will become a reality. For now you can keep reading and get to know Domenico and Angela. Pray for them!
(Johan Soderkvist, GBU General Secretary)
A student's journey in the GBU
I first believed in Jesus when I was 14 years old, and was baptized shortly after. At the age of 13, I started attending the youth group at my church in Marsala (Sicily) and that's where I understood who Jesus is. I felt compelled to give him my life.
After finishing school, I decided to go to university. I moved to Siena on October 1st, 2012 to study Modern Literature. I had never heard of the GBU. The first Sunday there, I went to church and at the end of the service, the first person to come over and speak to me was Giovanni Donato. Among other things, he told me that during the week the students met on campus to study the Bible. That was my first glimpse of the world of the GBU.
In the following months I began attending GBU Siena's Bible studies and events. It wasn't at all hard to integrate into the group, not only for hospitality and warm welcome I received from both the Donato family and the students, but also because of what the GBU was: a group of Christian students who shared the same challenges and struggles at the university but, foremost, a group who shared a common goal. Sharing Jesus from student to student. Seeing that Christ was the focus of every GBU activity and event was what, more than anything, convinced me to contribute to the cause of the GBU and which kindled a desire to evangelize, channeling this zeal within the context in which I found myself, the university.
In April 2013 I attended my first GBU Weekend Away. If I had to choose a moment in which I felt called to the work of the GBU, I would pick those days in April. There, my vision broadened, I saw the resources and the needs of the GBU at a national level and the Lord laid on my heart the deep desire to commit to this missionary effort.
At the beginning of 2016 I made two important decisions. The first, together with my fiancée Angela: that we would get married in March 2017. The second – being that, for various reasons, in May I'd move back to Sicily and finish university there. The realization that my work with the GBU was coming to an end made me very sad, but I nurtured the hope that I'd be able to help in Sicily, though I didn't know how. At the Weekend Away last April I spoke with Johan Soderkvist about this. I didn't know what job I would find after graduation, nor if I'd have time available, but I desired to contribute somehow to the growth of the GBU in Sicily.
Johan's reply went way beyond my expectations. He told me that, for years, the GBU had been praying for an increase in the number of staff in the south of Italy and for someone to be based long-term in Sicily. He suggested I start thinking about the possibility of working with the GBU and what that would entail. It was an amazing conversation. Afterwards I was struck by the way in which God was opening a door to do something that went beyond my imagination. There was the possibility to keep serving the GBU. This filled my heart with joy, and still does.
I have great hopes for the months and years to come. The road  seems to be full of obstacles at the same time, but Angela and I know that God brings his work to pass. We put our trust in Him.
Domenico Campo
https://gbu.it/wordpress/wp-content/uploads/2016/11/siena-maps.jpg
991
764
Luisa Pasquale
https://gbu.it/wordpress/wp-content/uploads/2015/09/GBU_bandiera_RGB_logo_colore-300x172.png
Luisa Pasquale
2016-12-02 11:59:20
2016-12-21 11:43:52
From Marsala to Siena… and back!